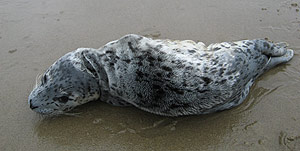 Crowds Adore Cuddly Seal on Oregon Coast
: "his seal, like a few others that have shown up recently, should be left alone.
Photo Seaside Aquarium
Boothe said seal pups are often found resting on shore while their mothers are hunting for food nearby. This is a normal occurrence and you must leave them alone. It's usually just a matter of time before the mother seal shows up to reclaim her young. They can be left alone for days at a time.
Like any baby, they just need to sleep a lot, and that's all they're doing. Well-meaning members of the public misinterpret the situation and try to "rescue" them by taking them away. But that's the last thing they need."
For the "FULL STORY" click the title box