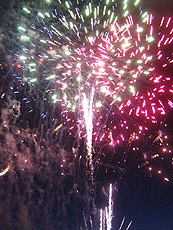 Central Oregon Coast Town Plans More Explosive Holiday
: "n late 2007, Newport began celebrating its 125th anniversary, and the final chapter of the celebration will happen at the town's Fourth of July fireworks display.
And it plans to make this one a real blow-up.
"We're still in the year of the anniversary," said Newport Mayor Bill Bain. "Though our Fourth of July fireworks display is always spectacular, we wanted to add something special to conclude our anniversary celebration.""